The Edge Markets | Stocks on Momentum: AppAsia
Stocks With Momentum : AppAsia | The Edge Markets | February 5, 2015 : 11:09 AM MYT
This article first appeared in The Edge Financial Daily, on February 5, 2015.
FORMERLY known as Extol MSC Bhd (
 Financial Dashboard), the company changed its name to AppAsia Berhad (Fundamental:1.65/3, Valuation:0.3/3) in November 2014, in conjunction with a rebranding and fund raising exercise.
The company is still in business of ICT security, offering hardware and software security solutions and services, consultancy, forensic research and training – but has also set its sights on the growing smartphone apps market.
The stock has drawn much investor interest of late, its share price rising 7.5% in the last two days to reach a year-high of 28.5 sen yesterday before closing at 28 sen. Volume traded also jumped sharply higher over the past one to two weeks.
AppAsia had been loss making for the past 4 years. A boardroom tussle in mid-2014 resulted in the removal of the company's CEO and substantial shareholder as well as two other directors. This was followed by the emergence of new controlling shareholders and management in the company, which also saw an internal restructuring exercise.
In January 2015, AppAsia issued 138.9mil renounceable rights shares on the basis of one rights share together with one warrant for every one existing share held — raising some RM13.9 million. The fresh funds are to facilitate its future plans moving forward, which includes rolling out new mobile app solutions. About RM3.88 million of the monies will go to R&D, RM1.15 mil will be utilised for the purchase of production and operation equipments, while RM 8.35mil is allocated for working capital purposes.
Prior to this fund raising exercise, AppAsia had some RM3.9 million net cash, as at September 2014.
The company had not paid any dividend since 2006.
The stock is trading at nearly 10 times its book value of 2.7 sen per share.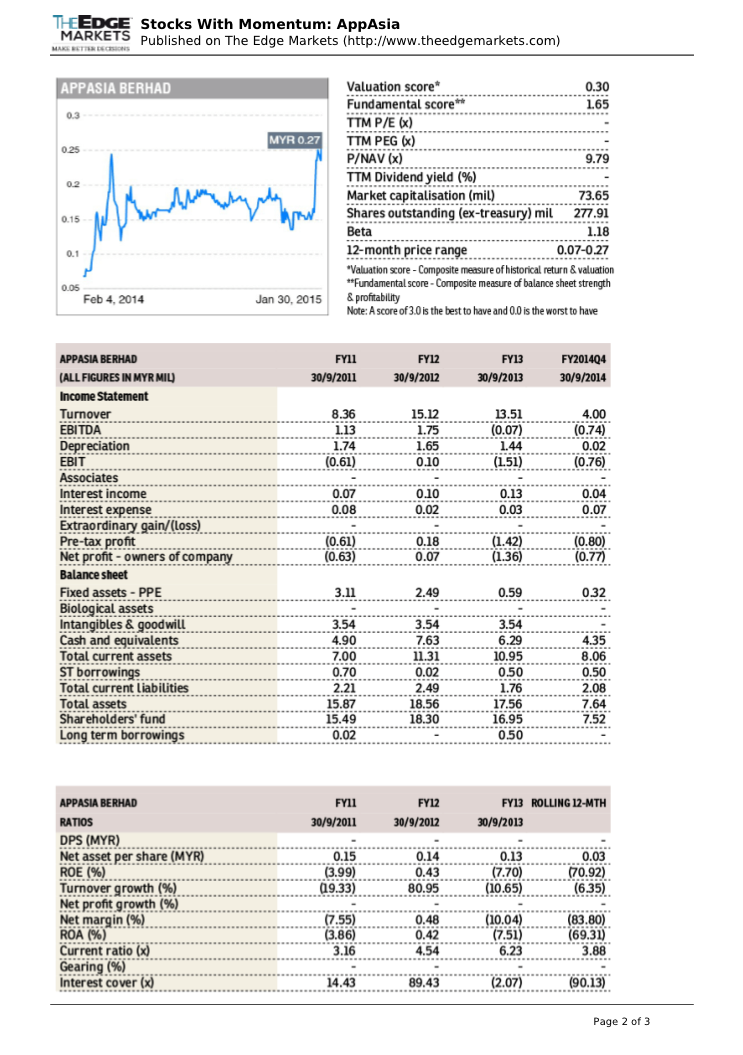 This article first appeared in The Edge Financial Daily, on February 5, 2015.
Source URL: http://www.theedgemarkets.com/my/article/stocks-momentum-appasia